Mini TK905 Mini GPS Car Tracker Remote Listen
GPS Locator TKSTAR 1500mah Waterproof Vibrate Alert Vehicle Tracker Geo-fence Free APP Voice Monitor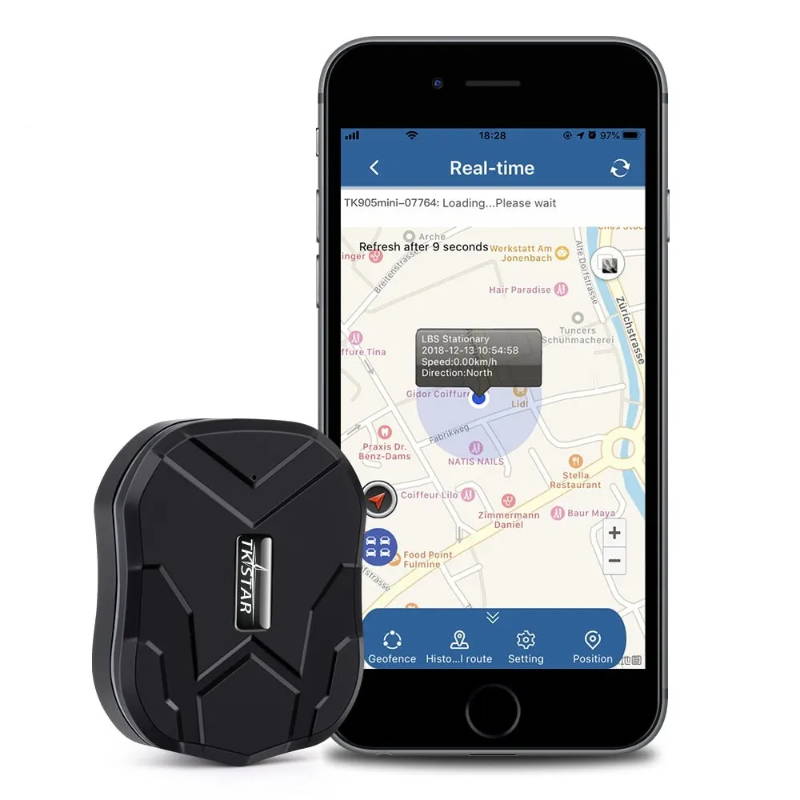 Tracking made easy. Track anything and everything with the TKS905 mini multi-satellite GPS tracker Know where your vehicle, luggage or anything else for that matter is at any moment. The
TK905 broadcast on multiple channels and utilizes up to three satellites for near pinpoint accuracyTrack your device on multiple platforms all at no additional cost. Get alerts when your loved ones or items leave a pre-designated area with perimeter breach alerts. The TK 905 also features a remote audio mode for listening on your devices surroundings as well.
Features extended battery life for continuous operation up to 90 days. of remote monitoring
Get To Know The TK Mini GPS
Children/ Loved Ones


The GPS receiver can be worn around the wrist or neck. Features two-way intercom are Ideal for aging parents who live alone.




 

Automobiles/ Fleet Vehicles/ Delivery Vehicles


Track your children's cars and even fleet tracking for Simply place the our real time GPS tracker wherever you want to start tracking no installation necessary!




 

Employees/ Deliveries


fits comfortably into pockets. Know exactly where your employees and deliveries are at all times.




 

Goods & Services


Quickly identify locations and let customers know when service providers will arrive.




 

Track Equipment


Place in tool boxes, or attach to rental equipment and receive alerts when they leave GEO Fenced designated areas.




 

Track Valuables


Classic Cars, Motor Homes, Boats, Luggage, Travel bags, Video equipment. Track anything you've invested time and money in.
Magnetic Back For Easy Install

Uses Multiple GPS Satellites for positioning

Four Positioning Modes: GPS | AGPS | LBS | WIFI

Worldwide GSM+GPRS

4-frequency System: 850/900/1800/1900MHz

168 hours running time

Light weight and easy to carry

Mini Tracker Size (30mmx50mmx15mm)

Built-in SOS call feature

No calibration needed (Updates Automatically)

Sim Card slot for SOS call feature

Track via PC/ Android/ IOS devices

Geo fence feature allows auto trigger if perimeter is breached

Playback up to 3 months of tracking data

Guardian triggered two way intercom allows guardian to listen in at surrounding

Remote Power Off/ On for optimal battery use

Works with Google Maps/ Biadu Maps
Name: Tk905 Mini
Charging Time: 4 Hours
Standby Time: 90 Days
Operating Time: 25-30 Days
Geo Fence area: 861 Feet (min area)
Signal Broadcast: SIM GPS/WIFI/LBS/AGP
Internal Memory: TF card 32GB (not included)
Supported Networks : 2G 3G 4G
Broadcast Interval: 5/10/15/20 seconds
Battery Capacity: (3.7V 5000mAh Lithium-ion battery)
Charging: 12V In-wall
GPS Accuracy: 5M
Size: US 3.5" * 2.8" * .8" Metric 90mm * 72mm * 22mm
*No Subscription requiired *SIM card not included