MagneCase 360™ Double Sided Magnetic Case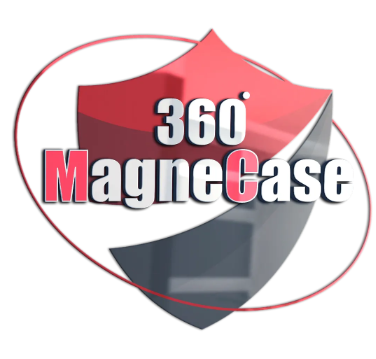 Purchase 2 & Get $5 Off With Code "

MAGCASE

"
Bend Resistant Aluminum Frame Plus 360° Front & Back 9HD Glass Coverage

---
Engineered for strength and utility . Our cases are Aluminum laser carved for superior accuracy engineered to resist bending and Able to withstand falls from up to ten feet
Seamlessly integrates with your Samsung S8 offering premium protection while preserving it's natural aesthetic
Protects corners and edges where your S8 is most vulnerable. Never causes signal loss.  
360 degree full body protection | Bend resistant Aluminum frame | 9HD scratch resistant cover | Seamless integrated design | Supports Wireless Charging
Why Choose MagneCase 360™
MagneCase 360 features a full-body Aluminum frame which won't bend | Double Glass protection unlike lesser models | Your MagneCase 360 phone case will never interfere with your phones sensitive signal | Integrated Design
The Ultimate Protection For Your Samsung S8
Features:
Raised camera rail | 9HD screen protection | 360° protection | Bend resistant frame | Shock proof silicone layer | Explosion-proof back-plate | Wireless charging | Shockproof


Materials:
Grade A Aluminum for Max protection and silicon for comfort and improved access to all functions.
Get full 360 degree protection for your S8 with the Magnecase 360™ magnetic flip case for Samsung S8 series phones.

Looks great plus protects your Samsung Mobile Phone against accidental drops, bending, bumps, unwanted marks and scratches.
Highlights:
Shock Absorption | Anti-knock | Dirt-resistant | Wireless Charging | Scratch Resistant

Design:
Transparent | Exotic | 9HD Tempered Glass | Aluminum Frame
Specs
Compatible Samsung Models: ALL GALAXY S8 MODELS 
Design: Transparent
Function: Waterproof
Function: Dirt-resistant
Function: Anti-knock
Function: Heavy Duty Protection
Function: Adsorption
Item Name: Magnetic Metallic Bumper Privacy Case For Samsung Phone
Color: Black,Silver,Gold,Red,Blue,Purple, Black and Blue,Red and Black...
Type: Shockproof Phone Covers
Material: Metal Bumper+Double Sided Glass
Feature 1: Magnetic Adsorption Metal Phone Case
Feature 2: Magnetic Case Cover For Samsung S8 Phone
Feature 3: 360 Degree Full Protection
Feature 4: Double Sided Tempered Glass Full Cover Case
Clear Signal: Support
Wireless Charging: Support