Bend Resistant Aluminum Frame Plus 360° Front & Back 9HD Glass Coverage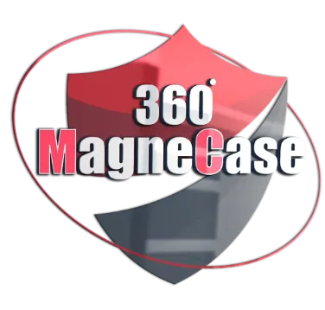 Purchase 2 & Get $5 Off With Code "MAGCASE"
---
Engineered for strength and utility . Our cases are Aluminum laser carved for superior accuracy, engineered to resist bending and withstand multiple drops while keeping your device safe
Seamlessly integrates with your iPhone offering premium protection while preserving it's natural aesthetic
Protects corners and edges where your iPhone is most vulnerable plus never causes signal loss.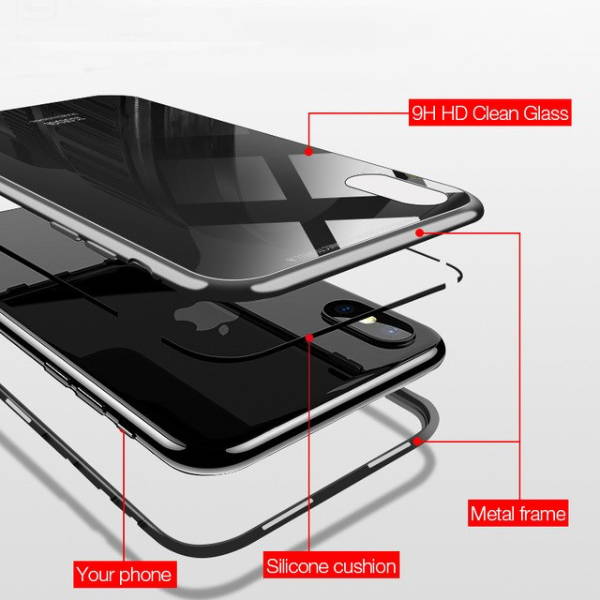 360 degree full body protection | Bend resistant Aluminum frame | 9HD scratch resistant cover | Seamless integrated design | Supports Wireless Charging
Magnetic phone absorption case Q&A
What is a magnetic absorption phone case?
​A magnetic absorption phone case is generally a multi-layer phone case featuring a magnetic closure along with two to three layers of protection.
The first layer of protection is the Aluminum frame to which impact resistant glass​​ is bonded.

​The second layer of protection is an​ inner layer of shock absorbing silicone or carbon material along the ​inner edge of the case​. ​

A premium case will likely feature a double layer of impact resistant glass on the front and back as well as the shock absorbing inner liner.
Most magnetic absorption cases generally feature a single layer of glass which is bonded to an aluminum frame with higher grade models featuring a double layer of impact resistant glass on the front and back sides.
The frames can be made from a variety of materials including plastic with premium models featuring an aluminum body.
What is the function of a magnetic absorption phone case?
A magnetic phone absorption case is designed to allow the user to display their mobile phones natural aesthetic while allowing easy access to their mobile devices.
Will the magnetic closure affect the operation of my phone?
Magnetic phone absorption cases particularly those featuring double glass, generally have no impact on the performance of your mobile device.
This is especially true with premium models which feature open frame designs with careful consideration for the placement of your phone's receiving and transmitting antenna.
MagneCase designs feature a laser carved aluminum frame with precision cuts-outs designed to wrap around your phone and still allow easy access to your mobile devices ports while protecting it from bumps scrapes and occasional drops.
Compatible Samsung Model: ALL GALAXY S10 MODELS
Design: Transparent
Function: Water-resistant
Function: Dirt-resistant
Function: Anti-knock
Function: Heavy Duty Protection
Function: Adsorption
Item Name: Magnetic Metallic Bumper Privacy Case For Samsung Phone
Color: Black,Silver,Gold,Red,Blue,Purple, Black and Blue,Red and Black...
Type: Shockproof Phone Covers
Material: Metal Bumper+Double Sided Glass
Feature 1: Magnetic Adsorption Metal Phone Case
Feature 2: Magnetic Case Cover For Samsung S10 Phone
Feature 3: 360 Degree Full Protection
Feature 4: Double Sided Tempered Glass Full Cover Case
Clear Signal: Support
Wireless Charging: Support
Why Choose MagneCase 360™
MagneCase 360 features a full-body Aluminum frame which won't bend | Your phone is fully protected unlike lesser models | Your MagneCase 360 phone case will never interfere with your phones sensitive signal
The Ultimate Protection For Your iPhone
MagneCase 360 Is Compatible With iPhone Models
iPhone XS / iPhone XS MAX / iPhone 7 / iPhone 7 Plus / iPhone X / iPhone XR / iPhone 8 / iPhone 8 Plus
Double Sided 360° Protection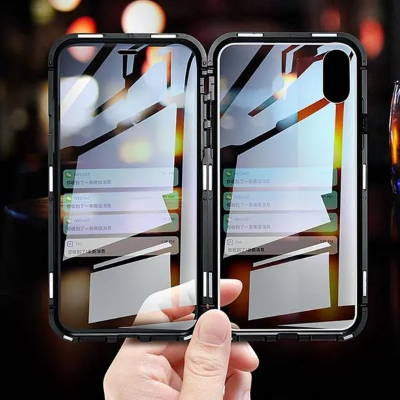 No More Prying Open Your Phone Case To Remove Dirt & Dust Opens Easily For Quick Cleaning Sim Card Changes & More
Easy Phone Access | Built-In Camera Lense Protection | Eco-Friendly | Zero Signal Loss | Wireless Charging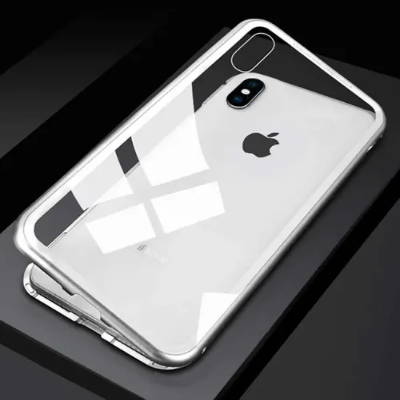 Magnecase 360™ offers maximum protection in an elegant full body frame designed to showcase your iPhone
---
Features:
Raised camera rail | 9HD screen protection | 360° protection | Bend resistant frame | Shock proof silicone layer | Explosionproof backplate | Wireless charging | Shockproof

Materials:
Grade A Aluminum for Max protection and silicon for comfort and improved access to all functions.
Get full 360 degree protection for your iPhone with the Magnecase 360™ magnetic flip case for Apple iPhones.

Looks great plus protects your iPhone against accidental drops, bending, bumps, unwanted marks and scratches.
Highlights:
Shock Absorption | Anti-knock | Dirt-resistant | Wireless Charging | Scratch Resistant

Design:
Transparent | Exotic | 9HD Tempered Glass | Aluminum Frame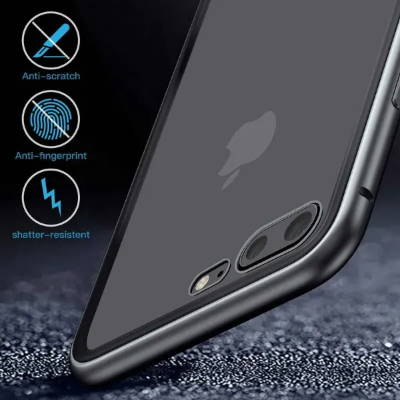 ---
What's Included:
1 x Magnecase 360™ iPhone Case